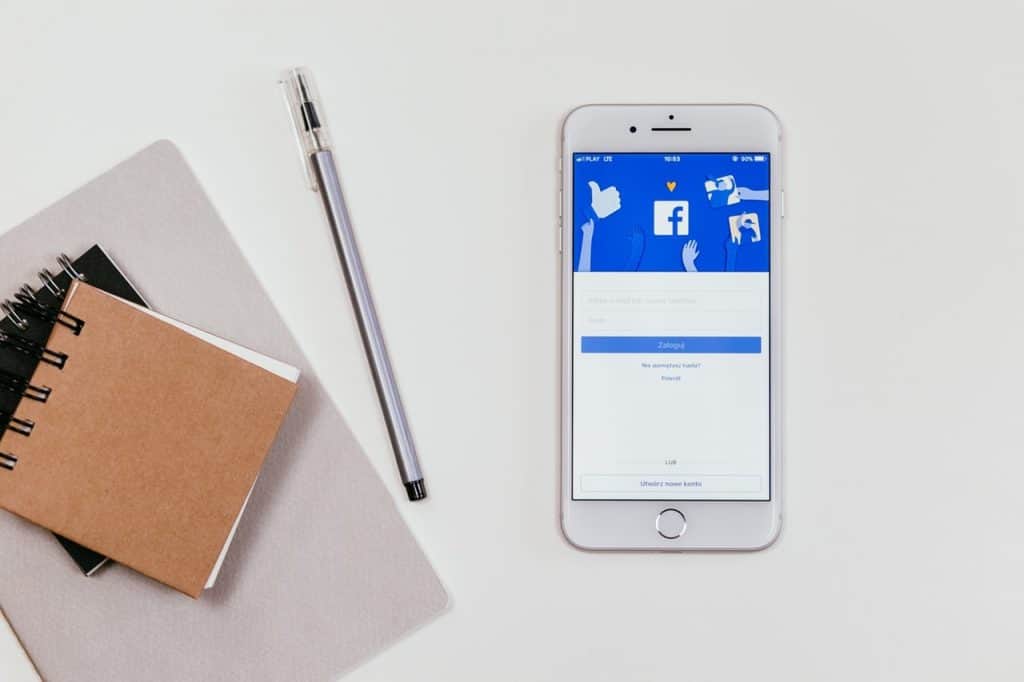 Facebook: The Beginning
Established one night on February 4, 2004, by Mark Zuckerberg, Eduardo Saverin, Chris Hughes and Dustin Moskovitz in a Harvard dorm, "the facebook' was created. Fast forward to 2019, Facebook has quickly wound up one of the greatest social networking sites on the planet. In the time span of about a year, the social network giant gathered more than 1 million user – Facebook has since developed every year and in 2018, it hit 2 billion users. For many, it is now considered the largest social networking company in the world.
So how exactly did this idea from a few college kids become one of the world's largest and fastest-growing companies, with influence in multiple countries around the world?
In 2003, Zuckerberg created a website that compared the pictures of Harvard students' faces and allowed people to rate the attractiveness of those pictures, these were mainly female students, he got 500 people to vote around 22,000 times, the site was called Facemash. This might've been cool for those Harvard students but it came with a consequence. Ultimately, Zuckerberg violated the school's policy because when he hacked into Harvard's system to obtain the photos for the site. Within two days it was shut down by the university.
Somehow, Zuckerberg avoided getting expelled. However, Facemash's overnight success sparked the idea for Facebook, a social networking website where students at Harvard could use their prestige ".edu" email addresses and profile photos to connect with other students at the school. He wanted this to be an exclusive experience for people at Harvard because it would make them feel special and people love feeling special!
So Moskovitz, Saverin and Hughes, Zuckerberg registered the domain address – thefacebook.com in February of 2004, just as he had expected it was a hit at Harvard. He then decided to expand to Stanford, Yale, and Columbia after a couple of months.
The image below is a quick view of what happened to Facebook between 2004 and 2010. [Source: Steemit.com]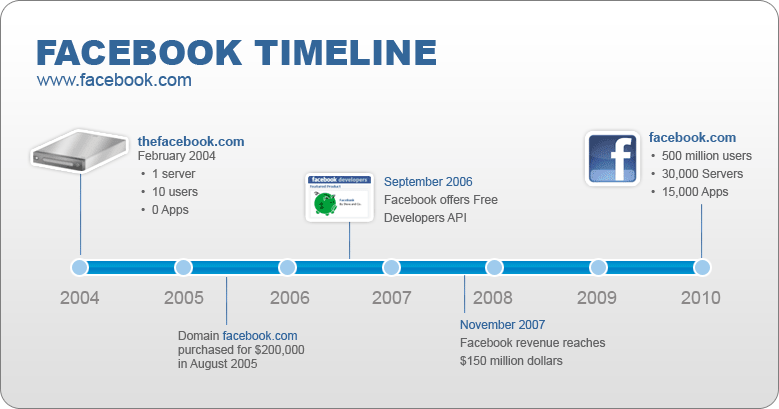 From Past to Present
Here are some points of what has happened to Facebook since 2010.
– July, 2010 – Over 500 million users are active on Facebook.
– August, 2010 – Engineering center is opened in Seattle.
– October, 2010 – Groups are launched.
– April, 2011 – Data center opens in Prineville, Oregon.
– July, 2011 – Video calling is launched.
– April, 2012 – Acquisition of Instagram is announced.
– May, 2012 – Facebook releases their IPO – which raised $16 billion and gave the company a $102.4 billion market value.
– October, 2012 – Membership hits the 1 billion mark.
– February, 2013 – Acquisition of Atlas is announced.
– June, 2013 – Facebook's acquisition Instagram launches video.
– February, 2014 – Acquisition of WhatsApp is announced.
– March, 2014 – Acquisition of Oculus is announced.
– November, 2014 – Groups App is announced.
– April, 2015 – Over 40 million small business pages are on Facebook.
– June, 2015 – Facebook's AI Research opens in Paris.
– February, 2016 – Facebook's Reactions launches.
– July, 2016 – Over 1 billion users of Messenger a month.
– October, 2016 – Marketplace launches – allowing users to buy and sell products.
– April, 2017 – F8 developer's conference is held in San Jose by Facebook.
– March, 2018 – Facebook is sued by shareholders following stock plummet.
– April, 2018 – Zuckerberg testifies before Congress regarding concerns over data and privacy breaches.
Facebook's Struggles
From the very moment that Facebook went live, there were many controversies behind it. Let's start with the Winklevoss era; Tyler and Cameron Winklevoss sued Zuckerberg with the case that he reneged on an agreement the three had made for Zuckerberg to help them build their own social website and actually had used the agreement to inspire his project Facebook.
Finally, in 2008, the case was settled, giving the Winklevoss twins $20 million dollars plus $45 million worth of Facebook stock – which is now worth exponentially more. I guess it's somewhat of a happy ending for the Winklevoss.
Most notably, the Cambridge Analytica scandal. Cambridge Analytica was a data firm owned in part by Robert Mercer, it was leaked that they were improperly using data bought from Facebook. The firm used the data to create psychological profiles of Facebook users for political use. This data was supposedly used to try and influence the 2016 presidential election.
I won't go into every single little detail about this situation in this blog but I'm sure a quick google search will provide you the information you're looking for.
The 2018 Hack was another hard hit for the social media giant. In September of 2018, Facebook reported a hack that affected around 50 million users, according to CNN. Facebook says the hack of 2018 was the largest hack it has ever experienced. The hack allegedly gave hackers access to data and accounts of these users and any apps they had logged into through Facebook.
Still, Facebook reported the incident and claimed they did not know where the attackers were based. As a precaution, Facebook required all the 50 million affected plus 40 million other users to log back into their accounts and sent a notification about the issue.
[ A Realtor's Guide to Generate Leads on Facebook]
Moving Forward
Mark Zuckerberg has promised to make Facebook a more secure and private networking site. With all the controversies, hacks and data breaches it seems like that is the company's only option if they want to maintain users and continue dominating the social media industry.
To say that Facebook has had it's up and downs is definitely an understatement. Just like another other business, there are difficult times that you must be prepared for and know the best way to handle them. It's going to be exciting to see where the future of this company will be considering that the everyday user is now more aware of how their private information can be used.
Next Steps
I hope you were able to get some valuable information out of this article! Just like Facebook has had difficult times, they have also had many great times. They have connected the world in a way no one had ever imagined. Please feel free to start a conversation and comment your thoughts below. Also, check out my Agent Tools page where I have compiled resources and recommendations for real estate agents like you, who are ready to take their real estate marketing one step further.
Found Helpful Information? Share It!
Sign up for our Newsletter and receive new content every week!
I began real estate at the age of 18, like many agents, this was not my first career choice. At 18, the world was still very new to me and the real estate industry even more so. I realized that in order to be successful in this industry you must surround yourself with the right people. I was blessed to have great mentors but I found a common problem among myself and my peers. The lack to lead generation skills. It is for that reason that I have decided to build this community and share my knowledge with the world.