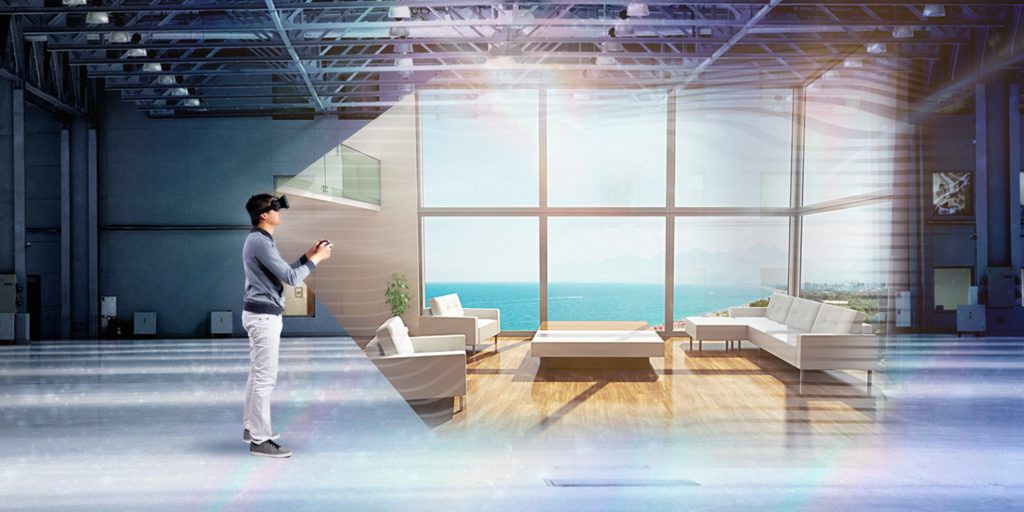 State of the art Technology is coming to Real Estate!
Virtual Reality (VR) is a new form of technology that up until recent years had not been explored too much. This leaves room for the real estate industry to take advantage of new and filtered technology. As technology is evolving rapidly and infusing itself with all the major segments of the industry. It was only a matter of time before VR was going to find its place in the real estate business.
What is Virtual Reality and how does it work?
In order to further understand this innovative technology, we must understand want Virtual Reality means. Virtual reality (VR for short) is described as a computer-generated 3D environment which can be interacted with and freely explored with. Unlike the traditional interfaces which simply display images and videos, VR puts the user inside the experience itself. This means that instead of simply viewing a screen that is in front of them, customers are completely immersed and have the ability to interact with every aspect of their virtual environment.
How can the real estate market benefit from VR?
Think about it, what if I told you that you no longer needed to be in physical house in order to see what it actually looks like? In the past, buyers had no other option than to look at pictures or to see the property in person before deciding on buying it. Now customers have the ability to slip on a VR headset and instantly be transported to a property without having to leave home.That is the power that VR brings to real estate. This has a major influence in international buyers that are looking for a home or an investment property in a different country.
What's it going to cost?
Although VR headsets used to be very expensive. These days, the average person can download plans from the internet, order a couple of lenses and piece together a headset using cardboard cutouts. Google has embraced this low-cost philosophy and made Google Cardboard, a fold-out VR headset which works with both Android and iOS devices.
There are more sophisticated, premium models available, including the now Facebook owned Oculus Rift and HTC-owned Vive, which cost $599 and $799 respectfully. Even Samsung has jumped on the VR bandwagon with its Samsung Gear VR headset, which cost only $99, but unfortunately, works for only a handful of Samsung smart phones.
VR is no longer a thing of the future
Virtual reality is more than a simple gimmick. Realtors can use it to attract audiences which would normally be unreachable using traditional efforts. VR also has the capabilities to provide more information regarding the property. If the customer considers the VR tour to be informative and interesting, they are more likely to want to do business with you!In short, by not taking advantage of free marketing is simply a bad business move, especially when that marketing comes from interested parties and potential customers.Are you a real estate agent? If so, I have a question for you; are you ready to start using technology to your advantage? Are you ready to generate leads and have a healthy real estate career?
Next Steps
I hope you were able to get some valuable information out of this article! The real estate industry is constantly revolutionizing and being ahead of your competition determines your success. Virtual Reality, augmented reality and digital marketing are all happening now! Jump on these latest trends before it's too late.  Please feel free to start a conversation and comment your thoughts below. Also, check out my Agent Tools page where I have compiled resources and recommendations for real estate agents like you, who are ready to take their real estate marketing one step further.
Found Helpful Information? Share It!
Sign up for our Newsletter and receive new content every week!
I began real estate at the age of 18, like many agents, this was not my first career choice. At 18, the world was still very new to me and the real estate industry even more so. I realized that in order to be successful in this industry you must surround yourself with the right people. I was blessed to have great mentors but I found a common problem among myself and my peers. The lack to lead generation skills. It is for that reason that I have decided to build this community and share my knowledge with the world.